Thermal modification is a well-established technology for improving the dimensional stability and durability of wood. The thermal modification process uses heat and steam to cure the wood. There are no harmful toxins or chemicals used in the process.
The advantages of thermally modified wood are:
100 % natural treatment
Wood is treated fully, not only near-surface as with chemicals-impregnated wood
Resin free
Suitable for all climates
Increased dimensional stability and durability
Decreased water absorption
Fewer deformations and tensions caused by humidity changes
Environmentally friendly and fully recyclable
Beautiful and rich in colour.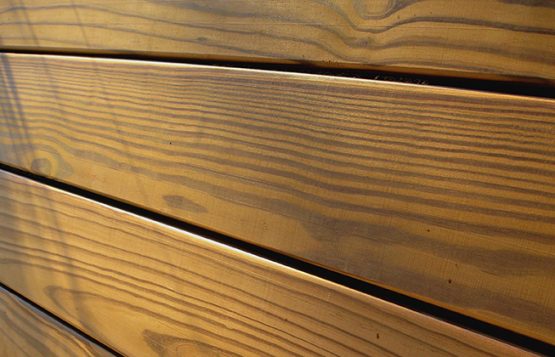 According to the European Standard EN350: 2016, wood species are classified into five durability classes:
Durability
Durability class 1
Very durable
Durability class 2
Durable
Durability class 3
Moderately Durable
Durability class 4
Slightly durable
Durability class 5
Not durable
Durability period
Over 25 years
15 – 25 years
10-15 years
5-10 years
Up to 5 years
Wood species
Thermo Ash
Teak
Ipe
Thermo Pine
Thermo Ayous
Thermo Spruce
European Oak
Thermo Pine
Thermo Ayous
Scots Pine
Spruce
Red Oak
Ash
Ayous
Beech
Maple
Thermal modification process
Thermal modification is a computer-controlled process that utilizes high heat to alter the dimensional composition of wood. The cellular structure is changed by applying heat without oxygen, which creates a controlled chemical reaction.
We heat the material to a temperature of 180–220 °C. At the same time, we protect it with steam.
The steam protects the wood and also influences internal chemical changes. Unlike chemical impregnation, thermal modification enhances the wood thoroughly, not just the outer surface.
The result is boards that are durable and stable in every sense
Wood is constantly subjected to moisture absorption and desorption. Thermal modification decreases the moisture content to 4-6 per cent. As a result, the wood does not react to changes in humidity as drastically as untreated wood.
That makes it dimensionally stable and the material retains its shape far better than untreated wood. The dimensional stability clearly decreases due to varying air humidity.
This is due to the reduction of wood shrinkage, lower equilibrium moisture content and slower absorption of humidity.
A green and local alternative to chemically preserved wood and tropical hardwoods
Many exterior wood products are treated with wood preservatives – some more toxic than others. The thermal modification process only uses heat and steam to cure the wood.
Thermally modified wood as an environmentally friendly and fully recyclable product is also a good alternative to tropical hardwoods.